Once upon a last weekend, I went to Baltimore and got in a car accident.
It was Sunday night, roundabouts seven o'clock, and Jules and I were driving through Baltimore, heading back to Harford county to meet my mom and sister for dinner. I'd missed my turn off Patterson Park Ave. and had ended up in the northern, more ghetto part of the city. No big deal; there are way scarier parts of the city than this—as anyone who's seen The Wire will tell you. But it wasn't the way I needed to go, so I turned left at Gay street, planning to head back south and pick up my cross-street. Easy peezy.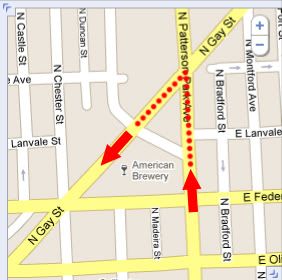 It was a dark and stormy night, of course. Not so much to be an obvious and immediate hazard, but certainly a nuisance.
Anyways, we're driving along through the rain when we pass through a tunnel and arrive at a particularly funky intersection—instead of intersecting at a perpendicular, 90 degree angle like a respectable street, this one cuts across at a bizarre 45 degree angle.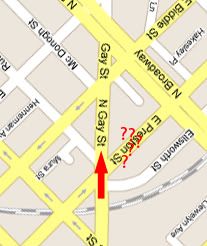 We're in the right-hand lane...should I turn onto the funky street or just go straight? The funky street looks like it's one way, but it's not obvious from a quick glance which direction it goes—and even though I think it's going to the right, I'm not sure that's the direction I want to travel. The street lights are straight green, no arrows, and I can see more green lights facing us from down the block. No reason not to go straight and avoid the funky intersection altogether.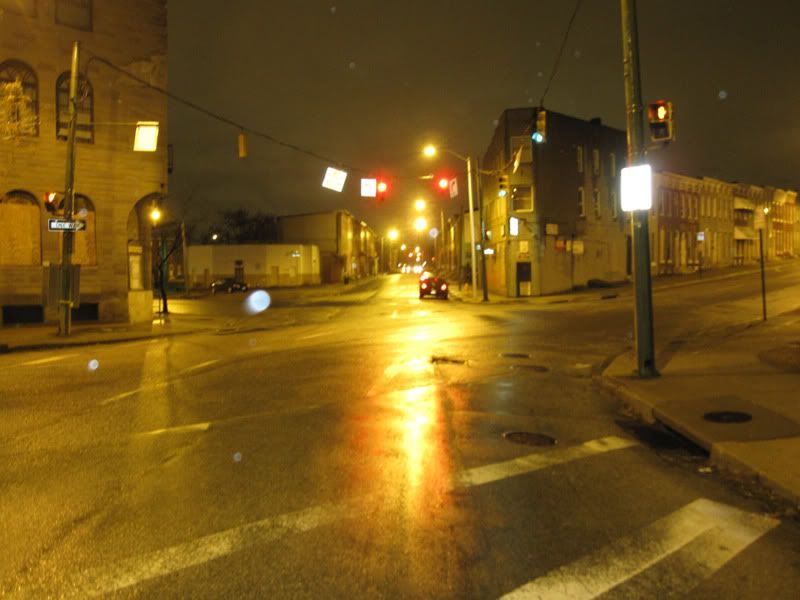 I think I see a Turn Only sign barely visible behind our traffic light, but it's not facing our lane at all—it's facing some other weird angle, maybe towards the funky angle street? I dunno, but it's not facing our lane. Plus the light isn't an arrow, and there wasn't a turn arrow painted on the street, and the lane ahead of us is clear, and there isn't a Do Not Enter sign or anything, and again, I can see street lights facing us from the next block up. So even if the lane I'm in IS supposed to turn—which doesn't seem likely, since the only Turn Only sign is barely visible and isn't facing my lane—there's no reason why going straight should cause any problems. So that's what I do.
(
Which, of course, is when we're suddenly hit by another car.
Collapse
)